Finally here come AFA Day 2 Report.
I too lazy to type in Chinese, typing in English is more faster, but i would like to apologize for using super broken grammar. Hope you DON'T MIND! DON'T MIND PLS
Hi! So here we go, I'm cosplaying Ren Hakuryuu from MAGI.
you might found out that i change my wig to green color this time.
I hv no idea what hakuryu hair color, the cover of magi is keep changing between blue n green. So this time i used green orz actually i like blue more~
.
I LOVE HAKURYU VERY MUCH. But unfortunately there are no hakuryu.
So someone selfcested LOL
And say Hi to one of my teammate; Andros who cosplaying Sharrkan (Massive sexy)www
Here come Carmen;Alibaba and Lavena;Aladdin~!!!!
TROLLL OUJI COMBI!
HERE COMES CILI PADI COSPLAYED AS OUR MORUUU-CHANNNNN~~~
AND I BET HAKURYU WOULDN'T DO THIS! LOL (sorrrryyy
oh ya, finally the king, Doru as SINBAD
and see now who bombed my photo. shin cosplayed as Judal~!!!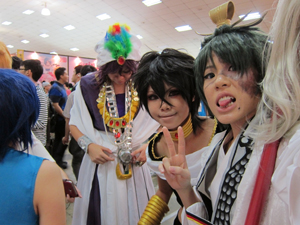 AND MY BELOVED SISTER HAKUEI cosplayed by Xiao Lynn~
HEY GUY! EVERYONE ARE HERE! SO LET'S PARTY! YYYEEEAAHHHHH!!!
(so i the one who responsible on taking pic hur D< is nt fair /crybabyagain
YOU GUYS ARE NOT ALLOW TO GO PARTY WITHOUT ME!!!!!!
Ok, so let's make party begin
........
HEY! this is not the RIGHT MODE.
REDO!

F*** YEAH! THAT'S THE WAY!!!